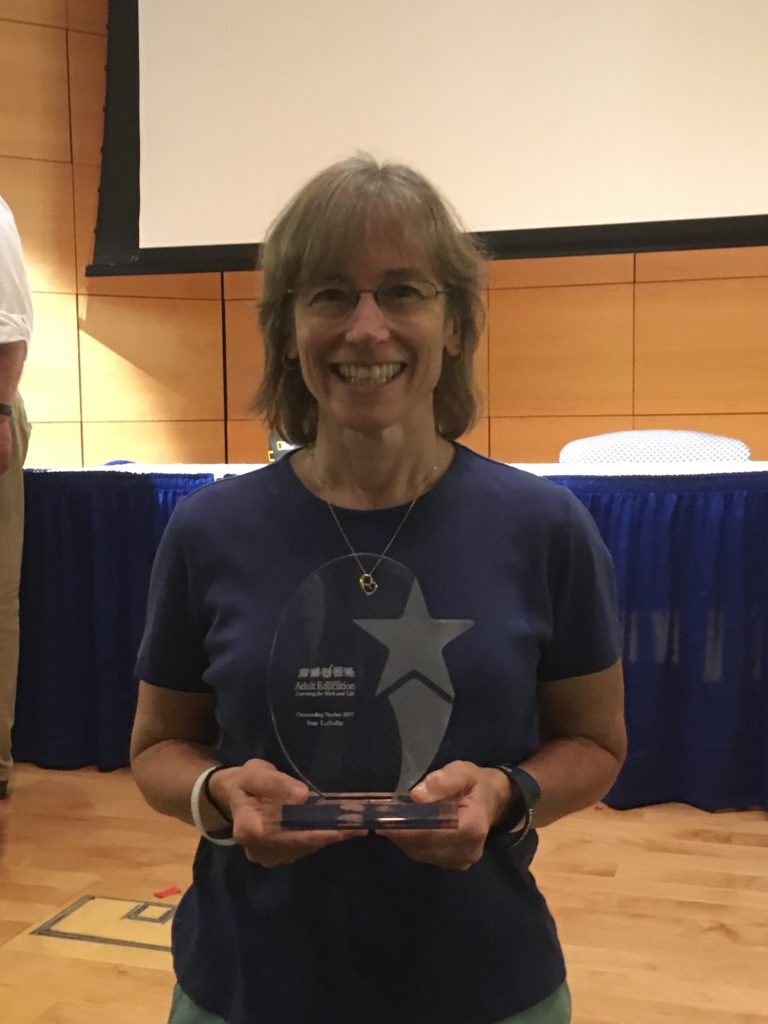 A good teacher is one who can understand those who are not very good at explaining, and explain to those who are not very good at understanding. Dwight Eisenhower may have said it, but Sue gives it life.
Sue has taught for our program since 2002.  She has been a teacher in both regular and special education since 1984, however, and she brings a wealth of knowledge, experience and patience to the youth and adults she works with in our program. Since the beginning of her teaching career on a Native American Reservation, her philosophy has always been that every student can learn if they feel safe and accepted in the classroom. This belief has been key to her teaching success over the years and has resulted in many changed lives in our community.
Her knowledge of learning and development has been a perfect match for our program's mission to provide adults of all ages and abilities with continued learning opportunities in a safe, flexible and nurturing environment… Sue has a knack for meeting students where they are at, both academically and socially, and she treats all students as individuals, with a respect that some have not often had the privilege of experiencing.
Instruction is also individualized in our small program, always based on a learner's personal needs and goals.  Sue's extensive Special Education background assists her in creating materials and applying different strategies to meet student needs and learning styles. Beginning with the Individual Learning Plan meeting, when presenting personal academic information or feedback which can be tough for some people to hear, she calmly explains factors that can prevent school success and discusses strategies to work through barriers that have gone unrecognized or seemed insurmountable in the past. During these meetings, Sue is sensitive and compassionate as she shares visually as well as verbally, where they are and where they need to be to achieve growth and make academic progress. Students leave feeling positive about the incremental steps they have outlined in the ILP together.  Many come believing messages that they are incapable of success, but Sue instills seeds of hope and confidence, and students quickly learn to respect the guide and advocate they have in her.
Over the last 5 years, Sue has taken a dozen College Math and English classes in order to become certified in all areas of Adult Education, beyond Social Studies.  She has also participated in the Competency Based Teaching and Learning Academy, as well as the CCRS Teacher Trainer Academy.  Through it all, she always learns through the lens of how students can benefit, constantly looking for ways to improve her own practices in order to better serve her students.  When asked to take on yet another initiative, she does so without hestitation – especially where student learning can be positively impacted.  Sue is also mindful of budgeting and fiscal responsibility and uses resources wisely and creatively.  She is more than an asset to our program, she is the glue!
Thank you Sue!  And Congratulations!